Chris Link is the Director of Advancement with Sojourn Collegiate Ministry, a group that works with college students across several campuses in New England.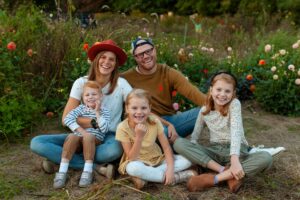 He graduated with a BA in Preaching Ministry from LCU in 2007, and will celebrate 15 years of marriage with Jessalyn in March of this year. Before joining Sojourn, Chris helped plant several Christian churches in the Rhode Island area, and serves as an elder at BridgePointe Christian Church in East Providence, RI, until just this past December when his term concluded. He and Jessalyn have three children, Nailah (10), Billie (7), and Canon (4).
We asked Chris a few questions about his ministry. You can read the interview below:
Provide a summary of what you do. What are the best part of your job?
"I serve as part of a team of a regional campus ministry in New England. My role as the Director of Advancement is to help our ministry to be fully funded and inviting new ministers to our team.
The best part of my job is the people I work with. We have a saying around here, "Safety Third!" That's because we love Jesus, love people, and safety comes third.
Our team is addicted to fun and inviting others into that fun. After all… fun is spiritual."
What are the unique challenges of ministering to this generation of students on secular college campuses like URI?
"Options.
One of the most frustrating endeavors is choosing a restaurant with a group of people. Too many options leads to inaction. It is my experience that this is one of the most paralyzing trends in our culture which started in the late 90's.
Students are looking for direction, for wisdom, for something that works. If they experience the power of the Gospel then they'll take steps toward believing the Gospel as well.
This all begins with simple, yet powerful, experiences."
Collegiate ministry is often and ideally closely connected to the local church. What role do/should churches play in participating in this ministry field? How important is it for the future of the church?
"Our posture of ministry at Sojourn is to be a bridge from the campus to the local church. In this posture we are an extension of the local church.
I had a great opportunity to serve in a local church for ten years before joining a campus ministry team. I share with local church leaders often: "Partner with ministries that go where you cannot go." If there is a local college campus, find ways to invest in a team that cares about being that bridge. Ultimately, they are your best shot at reaching students.
Church leaders, be on guard of this pitfall — campus work will and should look different than local church work. College ministry is primarily about sowing seed rather than reaping a harvest. People that walk through the doors of a church are at least curious about Jesus, seeds have been sown for days, weeks, or years. Most students on campus have no interest in Jesus — but they are looking for living water. Give freedom to the ministries you support to sow seed — it is hard, worthwhile work and if we do it right we can celebrate our uniqueness together (John 4:36)."
In what ways did your LCU education help prepare you for collegiate and pastoral ministry?
"LCU gave me three things that changed the trajectory of my life.
First, it gave me relationships. I am blessed to have mentors that generously share their wisdom to help me avoid the landmines of servant leadership. It also gave me relationships with peers who courageously help to set the pace for my relationship with Jesus, family, and ministry.
Second, LCU gave me the opportunity to serve in a local church during my studies. This is one of the reasons I love the recent academic changes at LCU. Each week I would lead a youth group, a Bible study, or I would preach — LCU was an oasis filled with processing and wisdom from my mentors and peers.
Third, LCU gave me tools and not a playbook. The late Ben Merold quoted a common mantra to begin Methods of Evangelism, "Methods often change. Principles never do." I can list over a dozen professors that equipped me with tools, they inspired me with stories, and they generously shared their authentic faith journey.
My junior year my friend and mentor J.K. Jones finished a semester class with tears. He pulled down his glasses, put his elbow on the desk, and proceeded to pull back the curtains of his inner life — the pain, mourning, and very few moments of joy of the past season. He read from his journal and it was as if you could wring it out with the grace of Jesus. In that moment we learned a long obedience in the same direction. LCU, as Eugene Peterson wrote, put a burning in my bones."